Week 2 of the College Football Playoff Rankings come out tonight at 9pmET
The college football season has been pretty tame throughout this year but then last Saturday happened:
PURE. CHAOS.
Those are just to name a few. A&M and Auburn went down as well. Although Washington wasn't a huge shocker going against a much improved USC team. 5 of the Top 10 teams went down Saturday. That's just Bananas! It's also the beauty that is college football. Even though there was all this Chaos in the Top 10, I don't think much will change and since half of the teams lost everyone is still in it and there won't be much movement inside the Top 10. All the talking heads are giving their Top 10 predictions. So what kind of blog would we be if we didn't share our thoughts. So here is what I think the committee will lay out for us tonight:
Alabama
As you can so eloquently see the Tide continues to roll right along with that #1 spot
2. Ohio State
Yes that is the appropriate look sir. Penn State controls your destiny, let that sink in.
3. Louisville 
Look I know ole Bobby P is in his famous Arkansas gear here but this pic is just an all timer
4. Clemson
Enjoy that 3 spot while you can Louisville. Clemson will eventually jump you
5. Michigan
I imagine that this was the face on most of the fans during the whole Iowa game Saturday. Michigan your still in control of everything though, except for Wilton Speight's collarbone 😦
6. Wisconsin
Wisconsin may have a pretty easy road to the playoff. So cheer up guy!
7. Washington
Yeah the committee doesn't value your team or your conference and neither do I. Sorry Huskies
8. Penn State
Too Soon? I don't care, this may be the worst Top 10 team of all time! Hilariously this team controls it's own destiny and COULD  get into the playoff. I just threw up in my mouth typing that.
9. Oklahoma
Hey OU welcome back to the Top 10! Too bad the Big 12 is a joke and you won't get in. They will need a little more chaos to get a shot at that.
10. Colorado 
Look at the Buffaloes! Busting in to the Top 10! I'm so proud of you guys! Gold Star!
There you have it. 3 weeks left in the season including conference games and it is literally WIDE OPEN. Wide open meaning filling in the final 3 spots. Bama is getting one of those spots 1,000% sure. They are straight eating worlds right now. They could lose their conference championship game and STILL get in!
As much as I hate to say it, it's Saban's world and we are just living in it. What say you Fat Sparxxx?
Alright, now mine will not be accurate whatsoever. I am going to go with what I think it SHOULD be, not what I think it WILL be.
Alabama – Nobody is even close. I think even if they lost a game, they should stay at 1. "SEC, SEC, SEC, SEC"
2. Louisville – For the rest of these teams, it's who has the best loss? And Louisville's loss to Clemson is definitely the best. They also have the best player in the country, so that gives them a leg up as well.
3. Ohio State – Fuck Ohio State
4. Clemson – That Troy win in week 2 looks even better and better. They have looked shaky a few times this year, but I trust them more than these other teams in similar situations.
5. Washington – Best win this year is Utah, yawn. To me, they are very similar to………….
6. Michigan – Biggest win this year is Wisconsin who I don't trust AT ALL. Their schedule is shitball, but that's life in the Big Ten.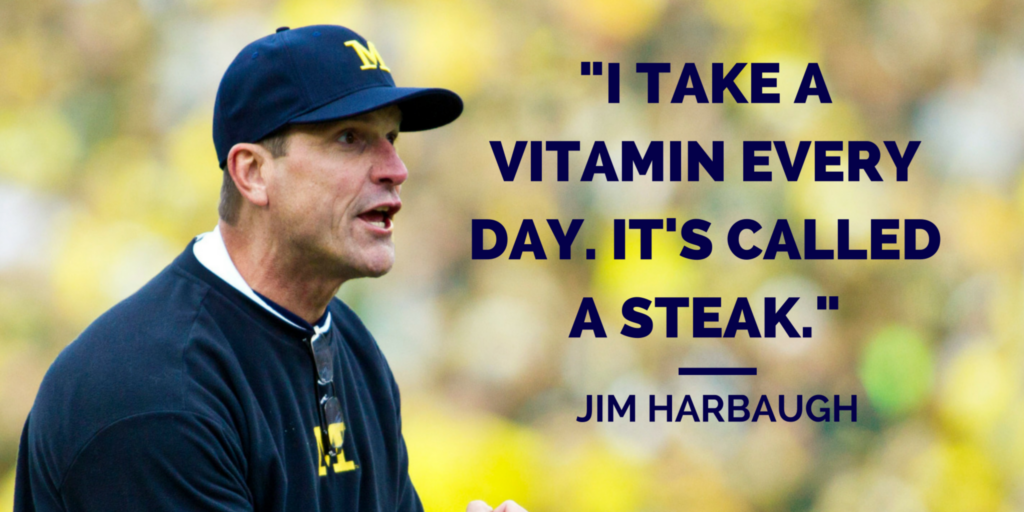 7. Wisconsin – At this point, you are just picking from crap. Wisconsin's best win is against an LSU team that had Les Miles as head coach.
8. Penn State – They beat Ohio State, that's why they are here.
9. LSU – Again, picking from crap. With Coach O in charge, I think they are a top 10 team.
10. Western Michigan – They haven't lost yet so I will give them some credit. They beat 2 shitty Big Ten teams, who hasn't, so it's not like they have just run through FCS teams all year.